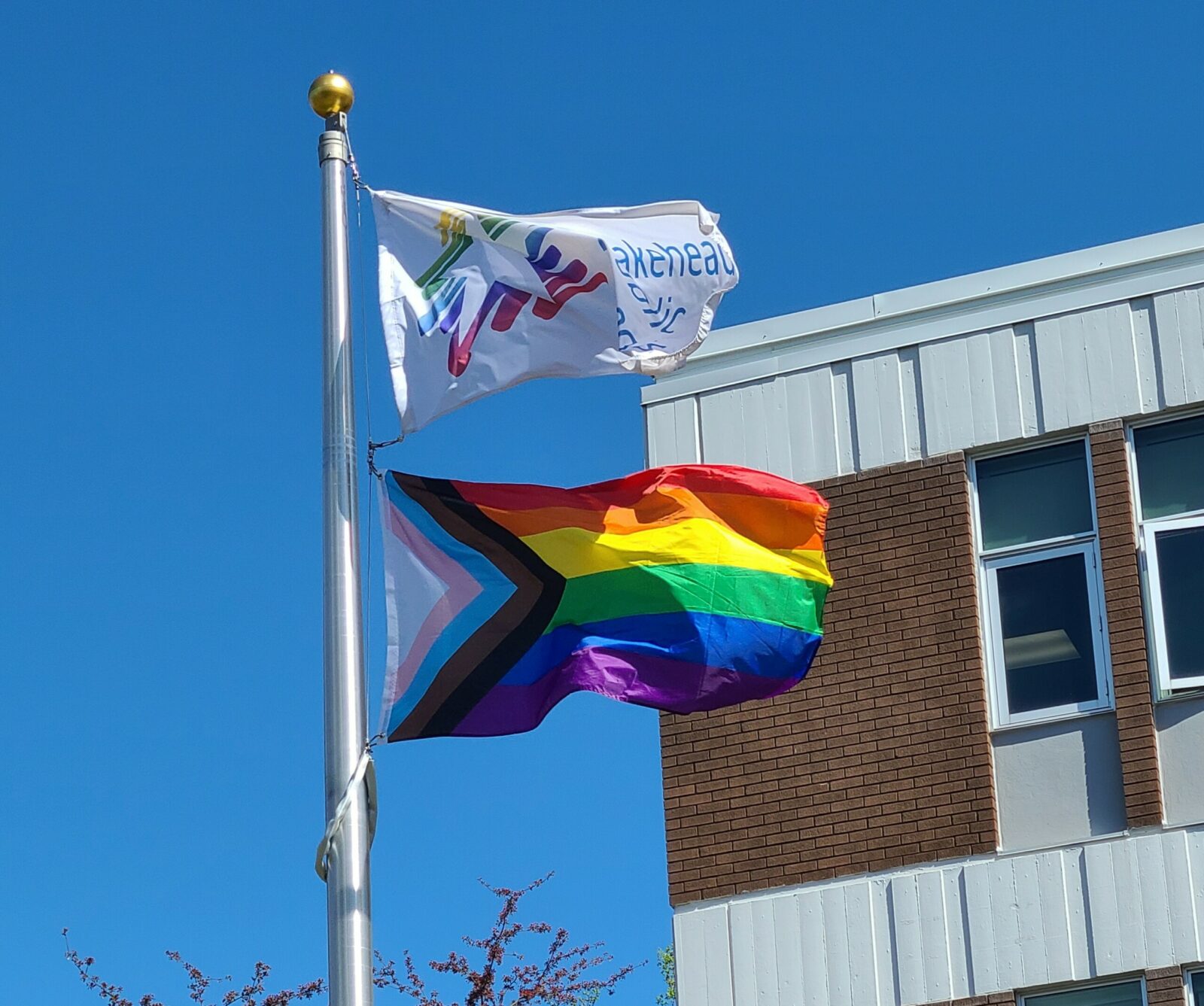 Pride Lives Here
Jun 1, 2022
Every school and Board facility within Lakehead Public Schools raised a Progress Pride flag today to acknowledge Pride Month and display its strong commitment to fostering environments of inclusion and acceptance.
Chair of Lakehead District School Board Ellen Chambers and keynote speakers from Thunder Pride and Rainbow Collective of Thunder Bay attended the Board's annual Pride event to deliver important messages to school communities and members of the public.
Ellen Chambers said the Board took the right steps to make schools safer for LGBTQ2+ children and it has accomplished many important goals, such as establishing gay-straight alliances in every secondary school, providing staff training and classroom resources, and creating a sexual orientation and gender identity policy to promote environments free of discrimination and harassment. "Is that enough? Are we done? No, no one is ever done providing safe spaces for children," said Chambers.
Jason Veltri, president of Rainbow Collective of Thunder Bay, said that Lakehead Public Schools has been a local trailblazer in flying the Pride flag every June. He is pleased that the Board has chosen to raise the new Progress Pride flag this year at all schools as it is the most inclusive. "Seeing the Progress Pride flag fly this year means that we are broadening the inclusion, we are broadening equity across the school system so that all students who represent under gender and sexual diversity communities are seen, heard, and valued," said Veltri.
Valentina Donoso, chair of Thunder Pride, said Canada has made a lot of progress in promoting respect for Pride. She hopes her home country in South America can soon follow suit. "Being able to grow up with something like this [Pride Month] would have made a difference, for me, for everybody else who grew up being scared of who we were. I really hope that back home, someday, I get to see this," said Donoso.
Lakehead Public Schools will continue to promote inclusive and respectful learning and working environments for students and staff every year by proudly flying the Progress Pride flag every June. Additionally, the Board's values include Inclusion and Respect, and those values are reverberated through all schools year-round. Members of the community can learn how Lakehead Public Schools is committed to its motto of "You belong here" by viewing the Strategic Plan 2021-2024, in particular the principle of Belong which states the following three goals:
Provide a safe, welcoming, equitable, accessible and inclusive environment that reflects the diversity of our community;
Foster a school community within which every student and staff feels accepted and welcome to be actively engaged; and
Promote a culture for students to express themselves and their identities.
To view Lakehead Public Schools' Strategic Plan 2021-2024, members of the public can visit https://www.lakeheadschools.ca/about/board/strategic-plan-2021-2024/